I overcome spiritual attacks better when I'm mindful that I'm about to face one. Of course, temptation can come anytime. As a matter of fact, it comes practically everyday. But certain situations require me to become extra careful. I've seen how these attacks seem to be stronger and more enticing at certain settings.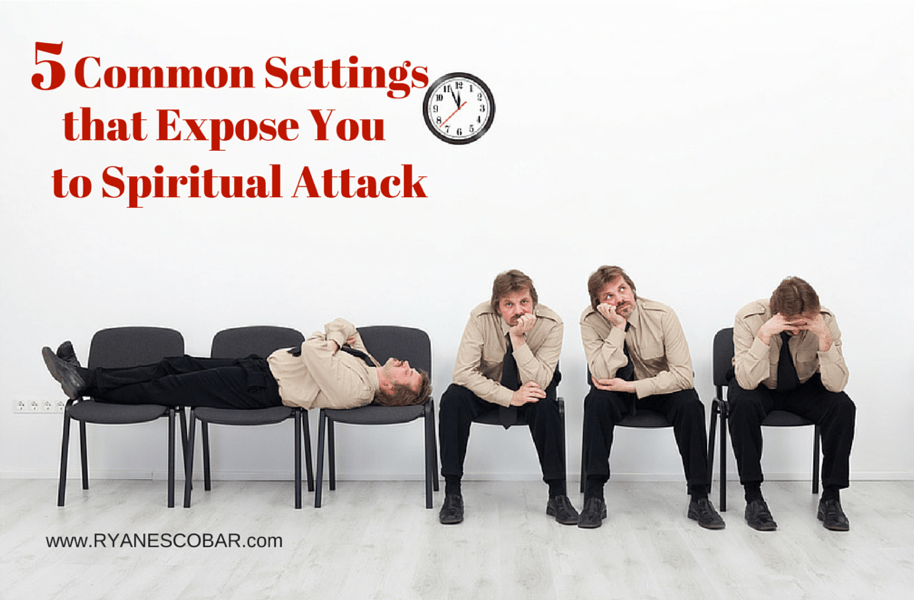 I remember years ago when I was so discouraged in serving the Lord. As a volunteer, I worked hard in making plans and implementing them. Unfortunately, all my proposals were disapproved. My heart sank.
Feeding My Mind with Rubbish
My mind raced with destructive thoughts. I had thoughts of anger, frustrations, and hurtful words to express to people. I felt unappreciated and even considered quitting. I fed my mind with self-pity.
Thankfully, God took hold of me. He reminded me to submit to authorities because that's the best way to go. I realized that the suggestions given to me were actually all correct. So I sat down, and made much better proposals. Thank God for the initial rejections!
Heightened Spiritual Attacks
I define temptation as anything that entices me to disobey and displease my God. In this world where the enemy still does his work, it's everywhere. There are common day situations that might seem normal, but increases my vulnerability to fall into sin.
1. When I'm Physically Tired
I experienced that when I'm tired, my mind isn't alert enough. I'm not able to evaluate the gravity of the temptation before me. I even think that the pleasures of giving in would help me recharge physically.
If I'm to resist temptation better, being physically fit prepares my mind. Choosing exercise, eating the right food and sleeping enough are activities for a fit body. It takes discipline of the mind to do them. So these strengthen me mentally to resist that which brings immediate gratification.
2. When I'm Emotionally Low
My day won't always go as I have planned it. When I'm emotionally down, I get tempted to do whatever will make me happy temporarily. I want to do something to numb the pain and help me forget my situation. Even if it means I would be compromising.
If I allow discouragement to linger in my head, it becomes a breeding ground to fall into temptation. I can't let my sorrow be an excuse to sin. I should instead let go of the hurt, and let God teach me the lessons I need to learn. Every setback has at least one precious principle that could make me a better person.
3. When I'm Emotionally High
Surprisingly, I observed that when I'm very happy, a powerful temptation is also around the corner. I let my guards down after experiencing delightful victories. My mind rationalizes that the consequences of sinning won't be enough to dissipate the ecstatic feeling I have.
I should never be complacent in my spiritual walk. My present victories do not guarantee any future victory. When I experience God's abundant blessings, I should use it as a reminder to be grateful. This should drive me to be humble and obey Him more.
4. When I'm away from Accountability Partners
Anytime I think that no one is going to know, the intensity of the temptations skyrocket. I make the mistake of assuming that no one will find out about my compromise. I forget about God's omniscience. Nothing is hidden from His sight.
One of the keys to living a righteous life is enrolling trustworthy people who have the permission to check on me. It can be very uncomfortable. But I have to do whatever it takes to be pure. I can't make it on my own.
5. When I'm Idle on a Regular Basis
I heard of the saying, "An idle mind is the devil's playground." Being idle sets me up to think of any activity that can bring me immediate happiness. Unfortunately, there is so much worldly influence that focuses on instant gratification. The chances of me doing one of them are high.
I've got to be intentional with how I use my time. I must set goals that will honor God when I achieve them. Every idle moment can be replaced with baby steps to move towards my personal goals.
Overcome Daily Spiritual Attacks
In 1 Corinthians 10:13, it states:
"No temptation has overtaken you except what is common to mankind. And God is faithful; he will not let you be tempted beyond what you can bear. But when you are tempted, he will also provide a way out so that you can endure it."
God promises me that He is faithful to limit the intensity of the temptation. Moreover, He also gives me the way out all the time. I don't have any excuse to be defeated!
Posted on: Nov 28, 2014
Photo: © Depositphotos.com/lightkeeper